First live performance in 2023!
March 2023:
The time has come, the new in-house production from Schmitt&Schulz, Um Kopf und Kragen, has finally premiered! Um Kopf und Kragen is a quirky talk performance in which my colleague Peter Schulz and I deal with urgent topics and current issues, taking aim at common talk formats and the gamification of our media world.
When? Saturday, the 15th of April at 8 pm
Where?  Bar Jeder Sicht in Mainz and online as a live stream on the Schmitt&Schulz youtube channel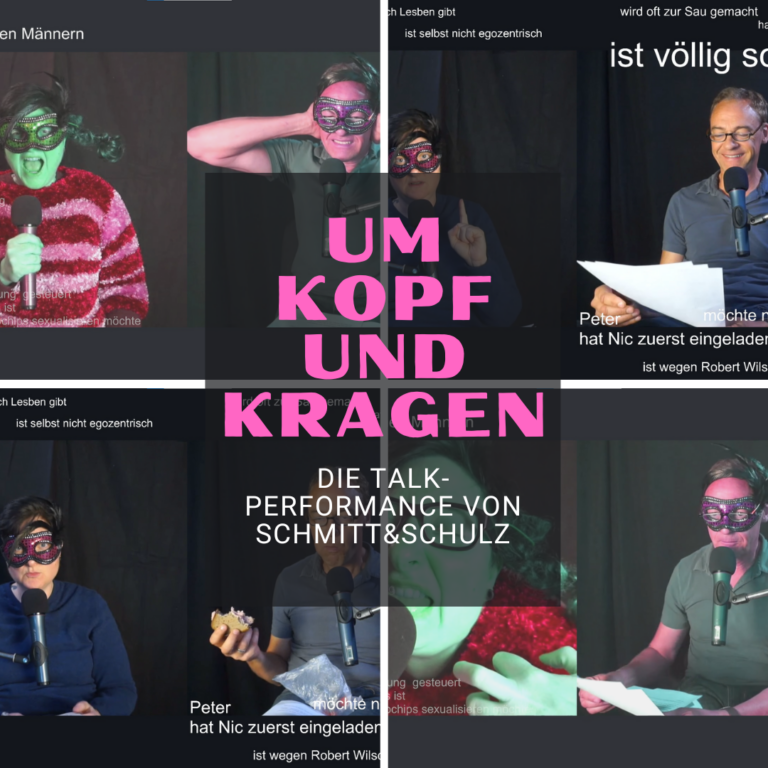 Guest on the Neurotainment Show!
Jan. 2023:
Podcast fans listen up! On 29, 30 January at the latest, the new Neurotainment podcast will go online, in which author Andreas Z. Simon has interviewed me about my work as a performance artist.
The Neurotainment Show, an "acoustic filling station for creatives and those interested in art", can be found directly at the Neurotainment homepage or on Spotify and Podcast Addict.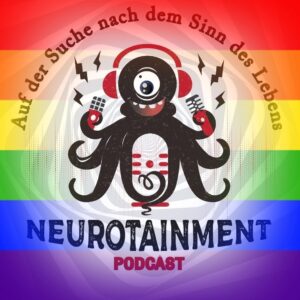 Dez. 2022:
In January 2022 Schmitt&Schulz and Kassandra Production (Danmark) met via live stream from home with many open questions: Can performance art work online? Can the problems of the world be solved in a performative video meeting? And...when will we meet again? Eight months later they met live at the Out Of Space festival in Mainz and explored which artistic strategies are needed to initiate social change.
In 2023, we will work together to further develop this exciting collaboration.

nonstoponline - online Performance Improvisation
In 2020 I have transfered, with Schmitt&Schulz our long term improvisation format nonstoponstage into a digital version. In this livestream variant, we have since been experimenting with the possibilities offered by the digital medium and exploring the possibilities of interaction with our audience. The project is constantly evolving. Sound and image composition are mixed live each time by Mo Walker, who is connected from Hamburg.
Funded by the programs "Im Fokus 6 Punkte für die Kultur" of the state Rheinland-Pfalz, "Mainz hilft sofort" from the city of Mainz and by Lotto Stiftung Rheinland-Pfalz and Stadtwerke Mainz